This article is brought to you thanks to the collaboration of The European Sting with the World Economic Forum.
Author: Douglas Broom, Senior Writer, Formative Content
---
Heat pumps are a key way to make heating more sustainable, affordable and secure.
They could reduce global CO2 emissions by 500 million tonnes by 2030 as they replace fossil fuel boilers.
But high costs to install a system mean government support is needed to help ensure wide uptake.
Heat pumps could make our homes, workplaces and public buildings more sustainable while increasing energy security. Thanks to soaring energy prices, they are also on course to become the cheapest heating option.
Globally, heat pumps could reduce CO2 emissions by 500 million tonnes by 2030 as they replace gas, oil and coal, according to new analysis from the International Energy Agency (IEA). In Europe alone they could cut the need for gas imports by 21 billion cubic metres – roughly 15% of the block's intake of Russian gas.
Heat pumps are already cheaper to run than conventional boilers, but their high initial cost is deterring some people from buying one, the IEA says. Countries will need to subsidize installations if they are to achieve their climate targets, the IEA warns.
https://cdn.jwplayer.com/players/uHOKf1LJ-ncRE1zO6.html
"Government support is essential to help consumers overcome upfront costs and tap into the savings heat pumps provide," says the IEA's Executive Director, Dr Fatih Birol. "This is an urgent priority to shield low‐income households from the energy crisis."
A special 2022 edition of the World Economic Forum's Energy Transition Index focused on the global energy crisis said that: "An increasing number of households, including in advanced economies such as the European Union, United Kingdom and United States, are unable to meet their basic need for heating and lighting at an affordable cost."
Discover
What's the World Economic Forum doing about the transition to clean energy?
Moving to clean energy is key to combating climate change, yet in the past five years, the energy transition has stagnated.
Energy consumption and production contribute to two-thirds of global emissions, and 81% of the global energy system is still based on fossil fuels, the same percentage as 30 years ago. Plus, improvements in the energy intensity of the global economy (the amount of energy used per unit of economic activity) are slowing. In 2018 energy intensity improved by 1.2%, the slowest rate since 2010.
Effective policies, private-sector action and public-private cooperation are needed to create a more inclusive, sustainable, affordable and secure global energy system.
Benchmarking progress is essential to a successful transition. The World Economic Forum's Energy Transition Index, which ranks 115 economies on how well they balance energy security and access with environmental sustainability and affordability, shows that the biggest challenge facing energy transition is the lack of readiness among the world's largest emitters, including US, China, India and Russia. The 10 countries that score the highest in terms of readiness account for only 2.6% of global annual emissions.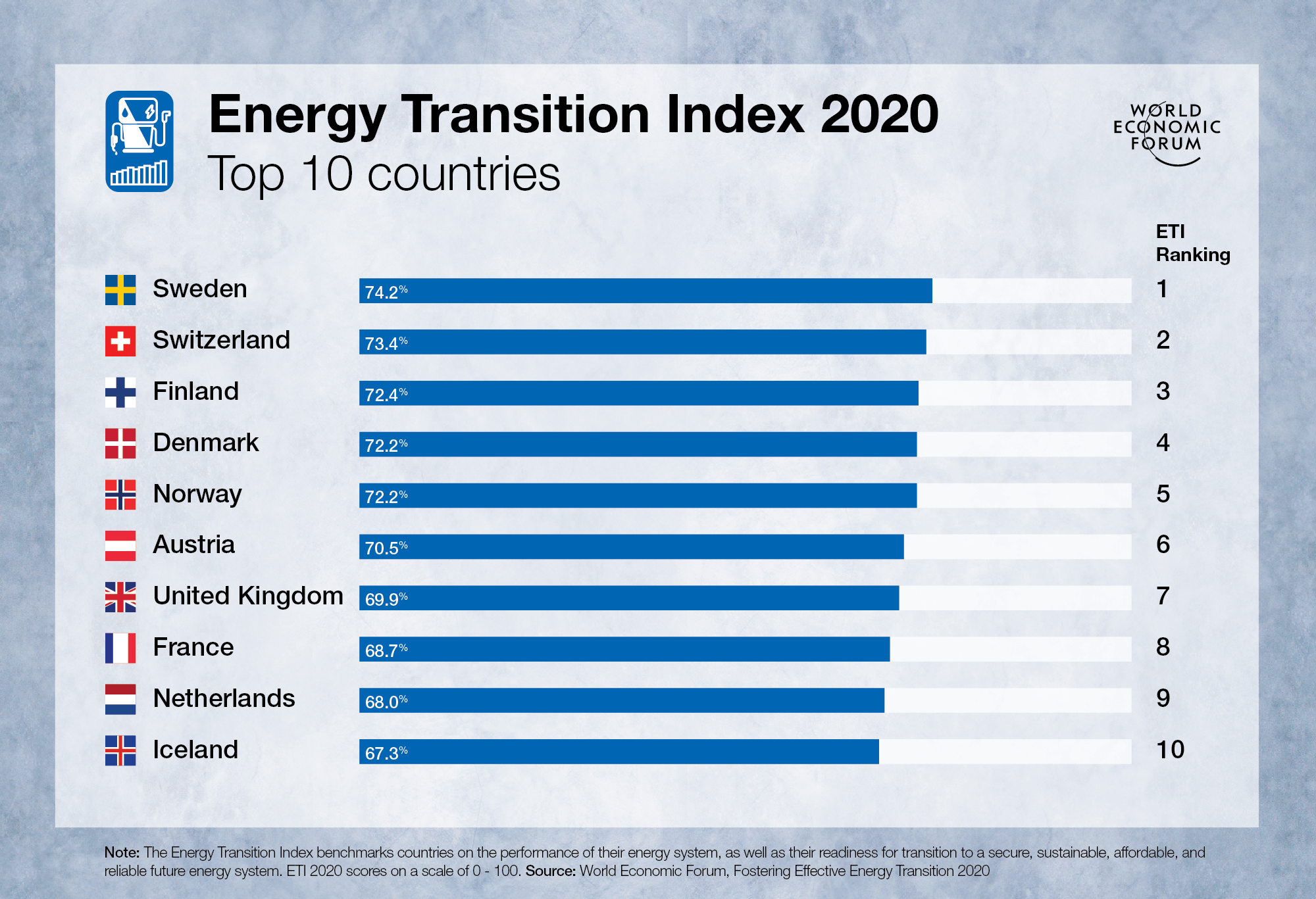 To future-proof the global energy system, the Forum's Shaping the Future of Energy and Materials Platform is working on initiatives including, Systemic Efficiency, Innovation and Clean Energy and the Global Battery Alliance to encourage and enable innovative energy investments, technologies and solutions.
Additionally, the Mission Possible Platform (MPP) is working to assemble public and private partners to further the industry transition to set heavy industry and mobility sectors on the pathway towards net-zero emissions. MPP is an initiative created by the World Economic Forum and the Energy Transitions Commission.
Is your organisation interested in working with the World Economic Forum? Find out more here.
So what is the potential of heat pumps? Here are five charts that show how they work and what they can do to warm our indoor spaces, while helping to stop the climate warming even further.
1. How do heat pumps work?
Heat pumps are more efficient than boilers. Image: IEA.
Heat pumps use similar technology to that of a refrigerator or air conditioner. They extract heat from a source – the surrounding air – and amplify this heat.
Heat pumps are much more efficient than boilers, because they transfer heat rather than generating it. Almost all of this heat reaches the space intended to be warmed.
The pumps can work at any temperature above absolute zero (-273°C) and the water they produce can be recycled to flush toilets or used to grow plants hydroponically. They can also work with hybrid systems using, for example, gas to top up the heat output.
2. Which region is installing heat pumps fastest?
Despite these rising sales, heat pumps only supplied 10% of heating for all types of buildings worldwide in 2021. Image: IEA.
The chart above shows sales of heat pumps in 2021, which were 13% higher globally than in 2020. Despite these rising sales, heat pumps only supplied 10% of heating for all types of buildings worldwide in 2021.
Total installed capacity was over 1,000 gigawatts, nearly half of which was in North America. Some of the world's coldest nations had the highest levels of heat pump usage. Heat pumps provided 60% of heating in Norway and over 40% in Finland and Sweden, IEA says.
3. How much of global heating demand can they cover?
The IEA says governments need to support the rollout of heat pumps. Image: IEA.
The extent to which heat pumps can be rolled out depends on whether nations deliver what they've written into their existing policies or climate pledges. In the chart above, STEPS refers to countries' stated policies on heat pumps and APS means their announced pledges.
The IEA says government support for heat pumps – like in the US Inflation Reduction Act – is needed for nations to achieve their climate and energy security goals. Bans on new fossil fuel boilers – as in Denmark, France, the Netherlands and Norway – will also help.
4. Which homes will benefit most?
Making homes more energy efficient means they can use lower-capacity heat pumps. Image: IEA.
Insulating buildings is a key component of improving energy efficiency and reducing emissions. The data from Denmark in the chart above demonstrates that heat pumps in the best-insulated homes use 30% less electricity than those with poor insulation.
Improving a home's energy rating by just two grades (from D to B) can halve energy demand, the IEA says. Making buildings more energy efficient also means households can use lower-capacity heat pumps, which are cheaper to install.
5. How much natural gas can they replace?
Annual heat pump installations is set to go over 6 million units by 2030. Image: IEA.
Russia's invasion of Ukraine has created an energy crisis in Europe, as nations seek to end their reliance on imported Russian gas. Installing heat pumps is a critical part of efforts to cut gas imports, the IEA says.
For Europe, heat pumps could reduce natural gas use by 7 billion cubic metres by 2025, and 21 billion cubic metres by 2030. Energy-efficiency measures, including refitting existing buildings and mandating heat pumps in new builds, will also help cut gas usage.