This article is brought to you thanks to the collaboration of The European Sting with the World Economic Forum.
Author: Mili Fomicov, Researcher, Centre for Climate Finance & Investment, Imperial College London, Justine Roche, Lead, Energy Initiatives, World Economic Forum
---
A massive scale-up of clean energy investments in South-East Asia is essential to meet climate targets.With $180 billion of annual investments required by 2030, there is a shortfall of $150 billion annually.Solutions include greater transparency around the financial performance of renewables, an enhanced role for development finance institutions and improved risk management.
ASEAN countries such as Vietnam, Thailand, Malaysia, Indonesia and Singapore have all committed to either net-zero emissions or carbon neutrality by 2050. Governments have simultaneously increased the role of renewable power in national energy development plans. In recent years, however, the region's high economic and demographic growth, coupled with rapid urbanization and industrialization have led to a continuing rise in its energy demand – mostly met, currently, by fossil fuels.Meeting this increasing energy demand securely and affordably, while remaining aligned with sustainable targets calls for a rapid scale-up of investment in clean energy in the region. The acceleration of renewables, in combination with energy efficiency and electrification measures, are especially critical if South-East Asia is to address its increasing import bill for oil and gas, which otherwise could reach over 5% of GDP by 2030
Here are three solutions that, through public-private collaboration, could support the advent of the much-needed finance for South-East Asia's clean energy transition:
1. Greater transparency and the wider availability of data around the financial performance and cost of capital for clean energy projects
A lack of data related to clean energy in South-East Asia presents a barrier for global investors to invest in ASEAN renewables. We need greater transparency around the cost of capital in emerging markets in general and the ASEAN region in particular.The Cost of Capital Observatory, launched by the International Energy Agency in partnership with the World Economic Forum, Imperial College London and ETH Zürich, aims to address this need. By providing reliable data and improving transparency around clean energy investment in emerging economies, the Observatory will help address data obstacles experienced by investors.
2. An enhanced role for development finance institutions (DFIs) and blended finance
In South-East Asia, renewable investments face financing constraints and bankability issues, which are barriers to mobilizing capital from commercial and financial providers. By providing catalytic capital from public sources to increase private sector investments, blended finance transactions can play a significant role for the region. In particular, the increased provision of blended finance from DFIs could ensure that projects meet high climate and compliance standards and provide leverage in setting up viable contractual and financing frameworks for renewable energy projects.
Discover
What's the World Economic Forum doing about the transition to clean energy?
Moving to clean energy is key to combating climate change, yet in the past five years, the energy transition has stagnated. Energy consumption and production contribute to two-thirds of global emissions, and 81% of the global energy system is still based on fossil fuels, the same percentage as 30 years ago. Plus, improvements in the energy intensity of the global economy (the amount of energy used per unit of economic activity) are slowing. In 2018 energy intensity improved by 1.2%, the slowest rate since 2010. Effective policies, private-sector action and public-private cooperation are needed to create a more inclusive, sustainable, affordable and secure global energy system. Benchmarking progress is essential to a successful transition. The World Economic Forum's Energy Transition Index, which ranks 115 economies on how well they balance energy security and access with environmental sustainability and affordability, shows that the biggest challenge facing energy transition is the lack of readiness among the world's largest emitters, including US, China, India and Russia. The 10 countries that score the highest in terms of readiness account for only 2.6% of global annual emissions.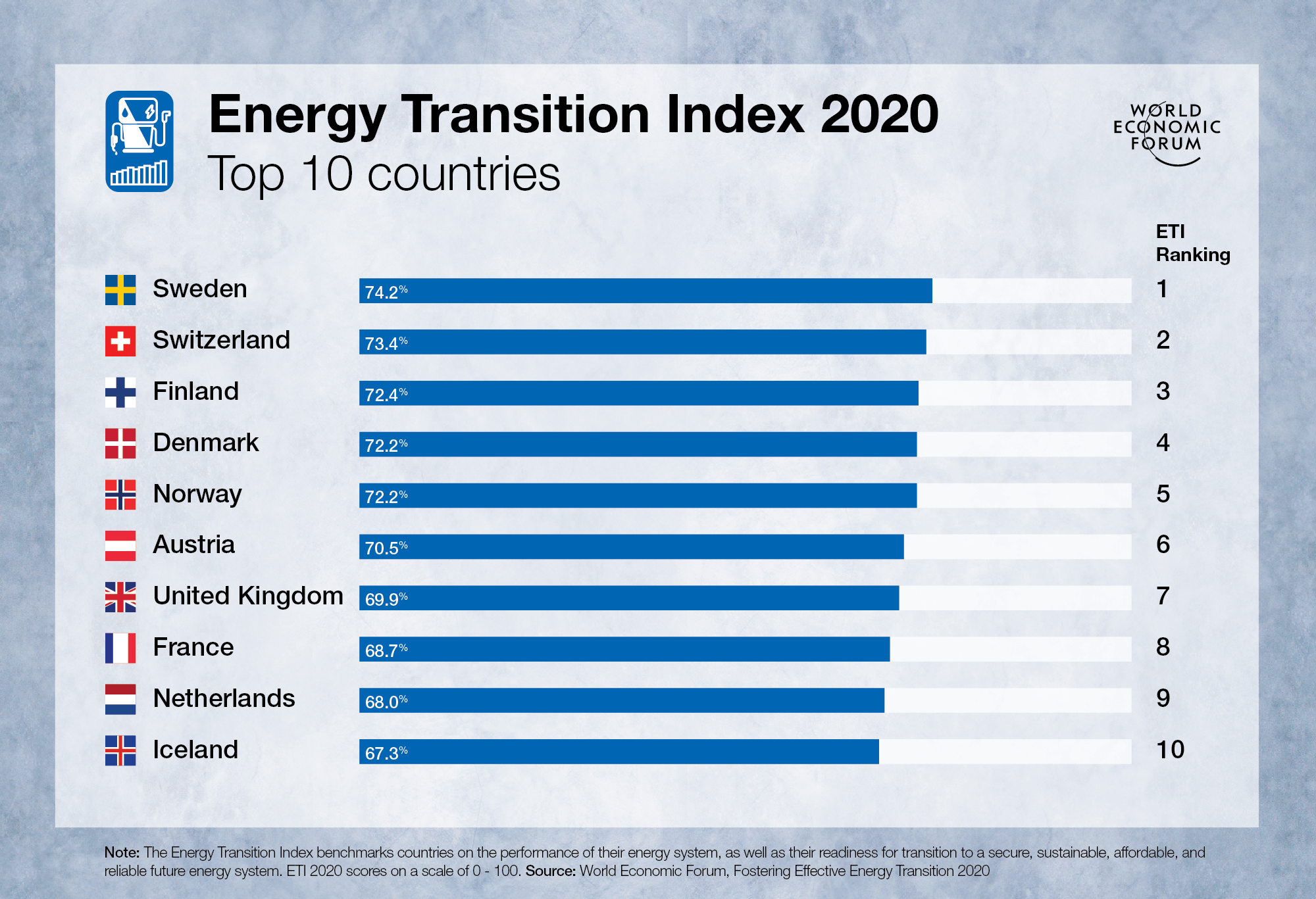 To future-proof the global energy system, the Forum's Shaping the Future of Energy and Materials Platform is working on initiatives including, Systemic Efficiency, Innovation and Clean Energy and the Global Battery Alliance to encourage and enable innovative energy investments, technologies and solutions.Additionally, the Mission Possible Platform (MPP) is working to assemble public and private partners to further the industry transition to set heavy industry and mobility sectors on the pathway towards net-zero emissions. MPP is an initiative created by the World Economic Forum and the Energy Transitions Commission. Is your organisation interested in working with the World Economic Forum? Find out more here.
The World Bank has been working with governments in the ASEAN region to develop carbon pricing mechanisms that could help put renewable energy on a level playing field with other fossil fuel-based generation technologies. Initiatives such as the Climate Action Data Trust illustrate the type of solutions that can provide technical assistance in building a regional voluntary carbon market.
3. Greater access to risk-hedging tools to address credit and currency risks for private investors
In many instances, private investors face elevated credit and currency risks in South-East Asia. It is challenging to protect investors from foreign currency fluctuations, especially over the long tenures typically required for clean energy infrastructure projects. A proposal to address this risk was made by the Center on Global Energy Policy of Columbia University, the World Economic Forum and the World Bank Climate Change Group's Invest4Climate programme. A clean energy Exchange Rate Coverage Facility (ERCF) would increase clean energy finance in emerging economies by protecting foreign currency lenders and domestic sponsors against the depreciation of local currency payments by leveraging credits generated by clean energy projects, blended finance mechanisms and private international capital.
The good news is: ASEAN countries do present a significant opportunity for investors willing to contribute to sustainable economic growth. There is no doubt that the rapidly growing demand for clean energy, the gradual improvements in policies and increasingly favourable economics will attract private investors' interest, and the kind of private capital needed to achieve the region's ambitions. However, barriers to foreign investment must be addressed. All pillars and sectors must come together
to scale clean energy in South-East Asia.