This article is brought to you thanks to the collaboration of The European Sting with the World Economic Forum.
Author: Les T. Csorba, Partner, CEO and Board Practice, Heidrick & Struggles, Clayton Sears, Partner and Sector Lead, Alternative and Renewable Energy, Heidrick and Struggles
---
Billions will be ploughed into clean energy in coming years but we need a sustainable supply of new leaders to boost production.Forward-thinking leadership is required to differentiate and create market advantage as the real competition in energy is for leaders.Digital dexterity, agility and a commitment to inclusion and diversity are among the skills needed for sector leaders of the future.
In the years ahead, the world will be thirsting for more, not less, energy – affordable, plentiful, reliable and cleaner energy. Billions of dollars of capital will be made available, and government tax incentives, attractive carbon credits and subsidies will continue to boost energy production. But none of that will translate into greater supply without a sustainable supply of new leaders. It is forward-thinking leadership that will differentiate and create market advantage. The real competition in energy in the next decade will not be for capital or customers, but for leaders.Traditional sources of talent for oil and gas – namely trained engineers and geologists – are drying up. Consecutive oil and gas downturns have created a leadership deficit, and baby boomers are beginning to exit the industry.
In renewables, companies are growing faster than the supply of leaders can keep up with, forcing them to be especially imaginative in competing for, retaining and developing talent. We believe that without a new paradigm of leadership and an associated talent strategy, this global energy crisis will never be solved. Moreover, the world's voracious thirst for reliable, affordable, plentiful and clean energy may never be fully quenched. The stakes in the talent war have never been higher. Based on our experience, we offer a set of practical suggestions and considerations to help energy companies build their bench and meet the talent challenge head-on.
Energy companies must plan for talent crisis
Like the energy supply, there are limits in the supply of leaders precisely while demand is increasing. On the oil and gas side, more CEOs and senior executives are electing to retire as equity values have recovered since 2020, and yet other prospective leaders refused to enter an industry considered a pariah and under daily attack from a narrative that questions its very existence. In renewables, start-ups, capital providers and private equity firms, pre-initial public offering and early-stage companies are all scrambling to fill seats on boards and management teams. The war for talent in renewables is reaching unprecedented levels.
Discover
What's the World Economic Forum doing about the transition to clean energy?
Moving to clean energy is key to combating climate change, yet in the past five years, the energy transition has stagnated. Energy consumption and production contribute to two-thirds of global emissions, and 81% of the global energy system is still based on fossil fuels, the same percentage as 30 years ago. Plus, improvements in the energy intensity of the global economy (the amount of energy used per unit of economic activity) are slowing. In 2018 energy intensity improved by 1.2%, the slowest rate since 2010. Effective policies, private-sector action and public-private cooperation are needed to create a more inclusive, sustainable, affordable and secure global energy system. Benchmarking progress is essential to a successful transition. The World Economic Forum's Energy Transition Index, which ranks 115 economies on how well they balance energy security and access with environmental sustainability and affordability, shows that the biggest challenge facing energy transition is the lack of readiness among the world's largest emitters, including US, China, India and Russia. The 10 countries that score the highest in terms of readiness account for only 2.6% of global annual emissions.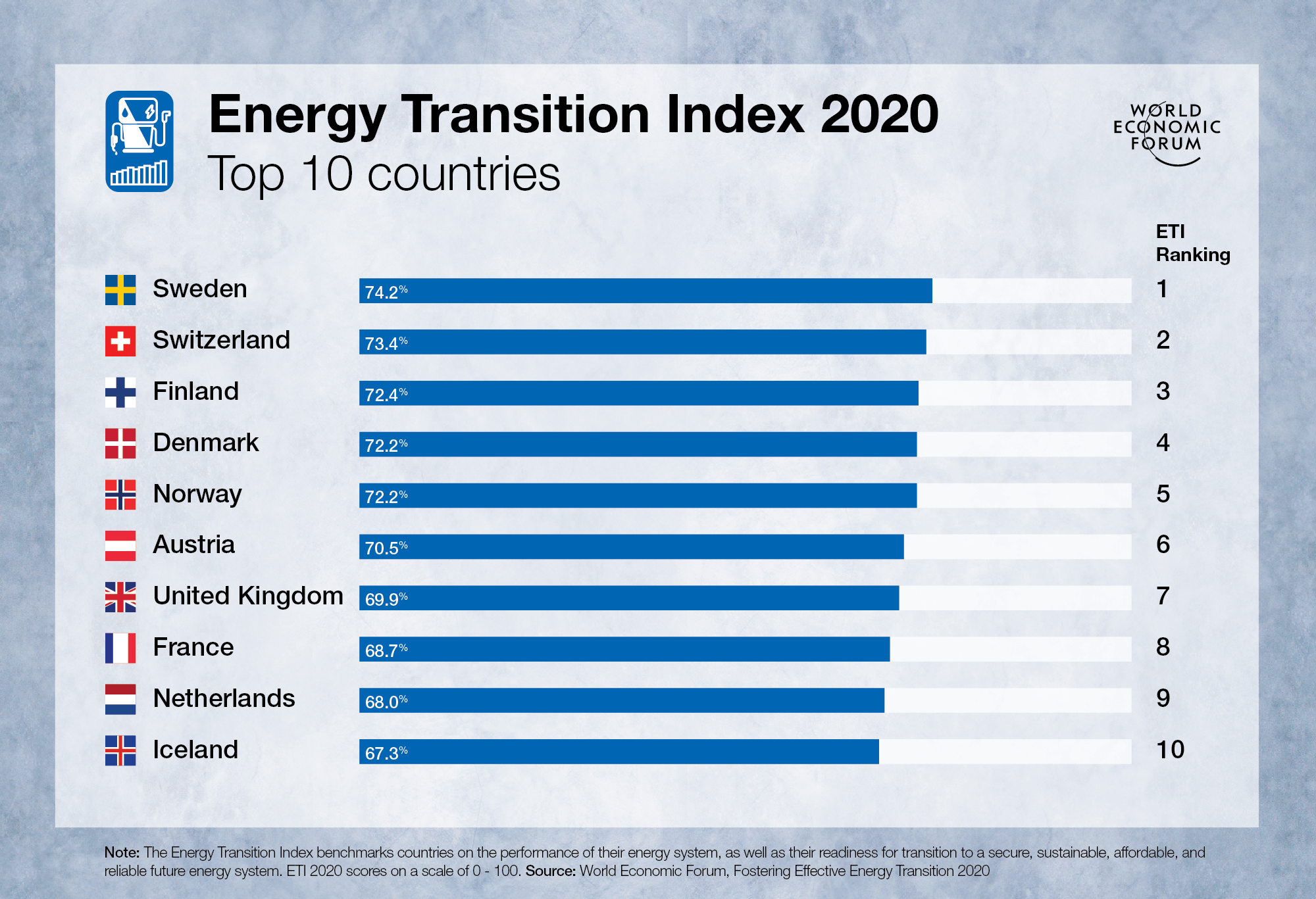 To future-proof the global energy system, the Forum's Shaping the Future of Energy and Materials Platform is working on initiatives including, Systemic Efficiency, Innovation and Clean Energy and the Global Battery Alliance to encourage and enable innovative energy investments, technologies and solutions.Additionally, the Mission Possible Platform (MPP) is working to assemble public and private partners to further the industry transition to set heavy industry and mobility sectors on the pathway towards net-zero emissions. MPP is an initiative created by the World Economic Forum and the Energy Transitions Commission. Is your organisation interested in working with the World Economic Forum? Find out more here.
All energy companies must begin to plan for the coming talent crisis. Numbers and supply alone are just the first problem. The new leaders in renewables and oil and gas will need to deepen their skills tool kits as their jobs become increasingly more difficult and complex. In 2021, we recommended four attributes of the "new energy leader" to deal with the increasing demands and complexities of their responsibilities at that time:
Adopt an internal activist mindsetEngage and relate with stakeholders with diplomatic skillsAdvocate for the purpose and meaning of their work in providing affordable, plentiful, and reliable energy to the worldDevelop a new humility about new ways of operating, innovating, and communicating in a world that demands more transparency and trust.
That is a lot. But it is no longer enough. There is growing complexity down every road: strategic complexity, digital complexity, functional complexity and diversity complexity
So, altogether, we would add three more attributes crucial to leadership in energy today and the next decade. First, a
digital dexterity
, which will enable leaders to address the supply and emissions challenges more easily and efficiently; second, an agility that enables them to meet the balancing demand for cleaner energy and energy security, energy access and energy affordability, and the full range of stakeholder expectations; and third, a commitment to
doubling down on inclusion and diversity
– especially experiential diversity – that enhances innovation and performance.
How to respond to the energy talent crisis
We have specific recommendations in response to the three trends we are seeing in the industry:
1. The demand for more energy requires a new supply of leaders
Increase advocacy for the meaning and purpose of working in both the oil and gas and renewables sectors.While affirming a bias for the development and promotion of internal leaders, consider selectively going outside the industry to reinvigorate cultures and bring more experiential diversity.Double down on building inclusive cultures, role-modeled by leaders and aligned with operating systems and processes that engage employees, enhance the free flow of innovation, and, in turn, create an attractive environment for outsiders to join.Oil and gas boards should be more intentional about adding diverse voices of energy expertise (climatologists and "new energies" leaders, for example); renewables boards should consider adding voices from oil and gas who bring the necessary operational, regulatory, land/NIMBY issues, and safety mindset.
2. Energy jobs are more demanding and complex
Refocus internal training and development of high-potential leaders to get outside of hyper-specialization, including more rigorous rotational assignments across a range of functions.Regardless of functional roles, make sure that high potentials are grounded in the strategic complexities and that all leaders hone their digital expertise.
3. The talent challenge has become a zero-sum game: A 'now-or-never' proposition
Give chief human resource officers (CHROs) the mandate and the power and strategic authority to align leadership development and talent acquisition initiatives with the business needs.Boards must insist that CEOs and designated officers (such as CHROs) are continuously updating and communicating effectively about their leadership and talent strategies.
In the years ahead, billions of dollars of capital and other incentives will boost energy production, but none of that will translate into greater supply without new leadership. Just as we need to plant the trees today to provide the shade of tomorrow, we need forward-thinking leaders to differentiate and create the energy market advantages of the future.This article is a short summary of a 2022 study conducted by Heidrick & Struggles based on interviews with 11 CEOs from both the oil and gas and
renewables/new energies industries. For the full report, see '
The next energy crisis? Talent
'
.