This article is brought to you thanks to the collaboration of The European Sting with the World Economic Forum.
Author: Luis Gomez, Partner, Baker McKenzie
---
Industry collaboration can break down sustainability barriers and drive systemic change by accelerating progress and spreading the burden of innovation.
Baker McKenzie's report The Race to Net-Zeroshowed that 73% of business leaders are willing to collaborate with competitors on net-zero transition.
Government agencies should look to the power of regulation and incentives to foster radical net-zero collaboration and businesses must view collaboration as an opportunity, rather than a risk.
With temperatures rising and extreme weather patterns increasing in intensity and frequency, climate change is an existential threat to humanity. Combatting the climate crisis requires a multi-faceted approach. Vigorous competition between businesses will always play a critical role in sparking innovation. It can also drive companies to pursue sustainability goals independently, bringing consumers the products they desire while delivering profits for companies.
But that is not always the case. More sustainable products may not come to market because a company fears free-riding on the investments required to promote sustainable products and educate consumers.
No government or organization can solve climate change alone. The scale and urgency of the emergency requires the pooling of resources, knowledge, people power and strategies. In this way, businesses can collectively lead the way towards a carbon-neutral future.
Discover
What's the World Economic Forum doing about the transition to clean energy?
Moving to clean energy is key to combating climate change, yet in the past five years, the energy transition has stagnated.
Energy consumption and production contribute to two-thirds of global emissions, and 81% of the global energy system is still based on fossil fuels, the same percentage as 30 years ago. Plus, improvements in the energy intensity of the global economy (the amount of energy used per unit of economic activity) are slowing. In 2018 energy intensity improved by 1.2%, the slowest rate since 2010.
Effective policies, private-sector action and public-private cooperation are needed to create a more inclusive, sustainable, affordable and secure global energy system.
Benchmarking progress is essential to a successful transition. The World Economic Forum's Energy Transition Index, which ranks 115 economies on how well they balance energy security and access with environmental sustainability and affordability, shows that the biggest challenge facing energy transition is the lack of readiness among the world's largest emitters, including US, China, India and Russia. The 10 countries that score the highest in terms of readiness account for only 2.6% of global annual emissions.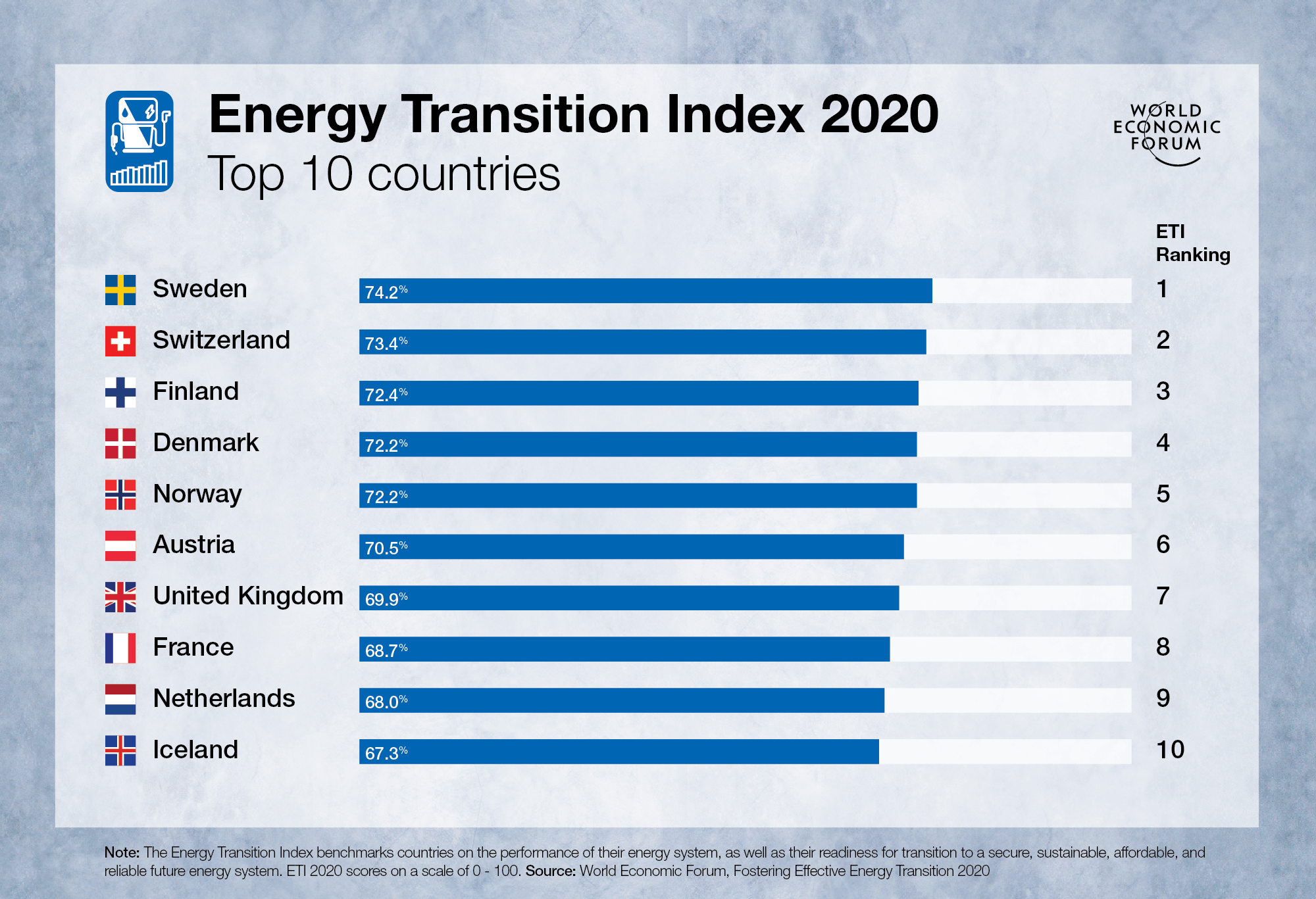 To future-proof the global energy system, the Forum's Shaping the Future of Energy and Materials Platform is working on initiatives including, Systemic Efficiency, Innovation and Clean Energy and the Global Battery Alliance to encourage and enable innovative energy investments, technologies and solutions.
Additionally, the Mission Possible Platform (MPP) is working to assemble public and private partners to further the industry transition to set heavy industry and mobility sectors on the pathway towards net-zero emissions. MPP is an initiative created by the World Economic Forum and the Energy Transitions Commission.
Is your organisation interested in working with the World Economic Forum? Find out more here.
Put simply, a carbon-neutral world requires 'all hands on deck.' It is no surprise that the UN Sustainable Development goals acknowledge the need for collective action and multi-stakeholder partnerships and that businesses acknowledge the power of partnership in tackling climate change. Baker McKenzie's report, The Race to Net-Zero, shows that 73% of business leaders are willing to collaborate with competitors on net-zero transition.
Breaking sustainability barriers through collaborations
Industry collaboration can break down sustainability barriers and drive systemic change in two significant ways:
1. Accelerating progress
Collectively, organizations have the power to demand better performance from their suppliers, thereby raising standards to benefit the industry as a whole. Furthermore, sharing information allows individual organizations to access a much bigger knowledge pool and significantly accelerates the speed of change.
2. Spreading the burden of innovation
A net-zero supply chain often means significant cost increases in the short term. None of the business leaders surveyed in Baker McKenzie's report said their organizations would accept a 30% or above loss of revenue in the short term to fund a net-zero transition. The reluctance to absorb financial loss can cause a net-zero standstill as organizations look to each other to make the first move. To break this inertia, competitors can pool their resources to spread the burden of innovation.
Collaboration in action
Industry partnerships are already well underway. In the banking sector, the Net-Zero Banking Alliance brings together banks globally with the objective of defining methodologies that help banks align their portfolios with the Paris Agreement. The World Business Council for Sustainable Development and the UN Environment Programme are working with banks on the Banking for Impact on Climate in Agriculture initiative, which specifically looks at how to define the climate impact of large agricultural projects.
Cross-sector collaboration is also being driven under initiatives such as the Climate Pledge, a group of 375 signatory companies that cover more than 30 countries with revenues totalling around $65 trillion. The signatories agree that reaching net-zero emissions by 2050 will be too late. Instead, they have come together to commit to net-zero by 2040. One practical example of collaboration is in the effort to bring down the cost of batteries for zero-emissions vehicles. Several businesses created a buying alliance to accelerate the cost curve and the lead times for batteries.
https://cdn.jwplayer.com/players/XQLEVdOL-ncRE1zO6.html
Net-zero collaboration challenges
Whenever competitors come together, it raises concerns about maintaining healthy competition — regardless of positive intentions. In the short term, sustainability initiatives may lead to an increase in prices or less choices for the end consumer. Although the impact may be justifiable on sustainability grounds, some businesses are reluctant to collaborate for fear of breaching – or being perceived to have breached – competition rules.
It is important for regulators to distinguish between collusive activity and legitimate collaboration between competitors to drive net-zero progress. On the path to net zero, competition agencies should engage with businesses and provide guidance on how they can stay on the right side of the law. To ease the additional complexities of navigating competition rules across borders, competition authorities should take an aligned and consistent approach.
What's next?
We need to avoid a tragedy of the commons: the severe destruction and depletion of natural resources. For a net-zero future, businesses must embrace the necessity of the commons, whereby industry players work together to ensure long-term prosperity and the further existence of resources.
Now is the time to be bold. Beyond methodically reviewing competition laws to avoid hindering net-zero collaboration, government agencies should look to the power of regulation and incentives to foster radical net-zero collaboration. On the other side, businesses must view collaboration as an opportunity, rather than a risk, and take drastic steps to maximise net-zero opportunities.
Hear Christiana Figueres, the UN's former climate chief and now the founding partner of Global Optimism; Luke Disney, SVP Sustainability & Climate at Rabobank; and, Luis Gomez, Partner at Baker McKenzie, delve into this topic on Baker McKenzie's podcast Collaborating with competition: shaping a new framework for net-zero success.