This article is brought to you thanks to the collaboration of The European Sting with the World Economic Forum.
Author: Stefan Ellerbeck, Senior Writer, Formative Content
---
European countries have been accelerating their renewable energy capacity since Russia's invasion of Ukraine sparked an energy crisis.
The EU says it expects renewable energy sources to comprise 45% of its energy mix by 2030.
However, the International Energy Agency says the target won't be met unless governments and industry ramp up the energy transition.
Europe has been facing an unprecedented energy crisis.
Twenty-seven member states of the European Union (EU) got almost 40% of their natural gas imports from Russia in 2021. However, soon after the EU imposed sanctions on Moscow following its invasion of Ukraine, it stopped supplying gas to Europe through a major pipeline to Germany, sparking the crisis.
The EU has been forced to look for gas supplies elsewhere, as well as burning more coal to meet its short-term energy needs. But part of its longer-term response to ensuring its energy security is to accelerate a green energy transition that was already underway to meet net-zero emissions targets.
Europe's green energy transition was already underway before the current energy crisis. Image: IEA
Discover
What's the World Economic Forum doing about the transition to clean energy?
Moving to clean energy is key to combating climate change, yet in the past five years, the energy transition has stagnated.
Energy consumption and production contribute to two-thirds of global emissions, and 81% of the global energy system is still based on fossil fuels, the same percentage as 30 years ago. Plus, improvements in the energy intensity of the global economy (the amount of energy used per unit of economic activity) are slowing. In 2018 energy intensity improved by 1.2%, the slowest rate since 2010.
Effective policies, private-sector action and public-private cooperation are needed to create a more inclusive, sustainable, affordable and secure global energy system.
Benchmarking progress is essential to a successful transition. The World Economic Forum's Energy Transition Index, which ranks 115 economies on how well they balance energy security and access with environmental sustainability and affordability, shows that the biggest challenge facing energy transition is the lack of readiness among the world's largest emitters, including US, China, India and Russia. The 10 countries that score the highest in terms of readiness account for only 2.6% of global annual emissions.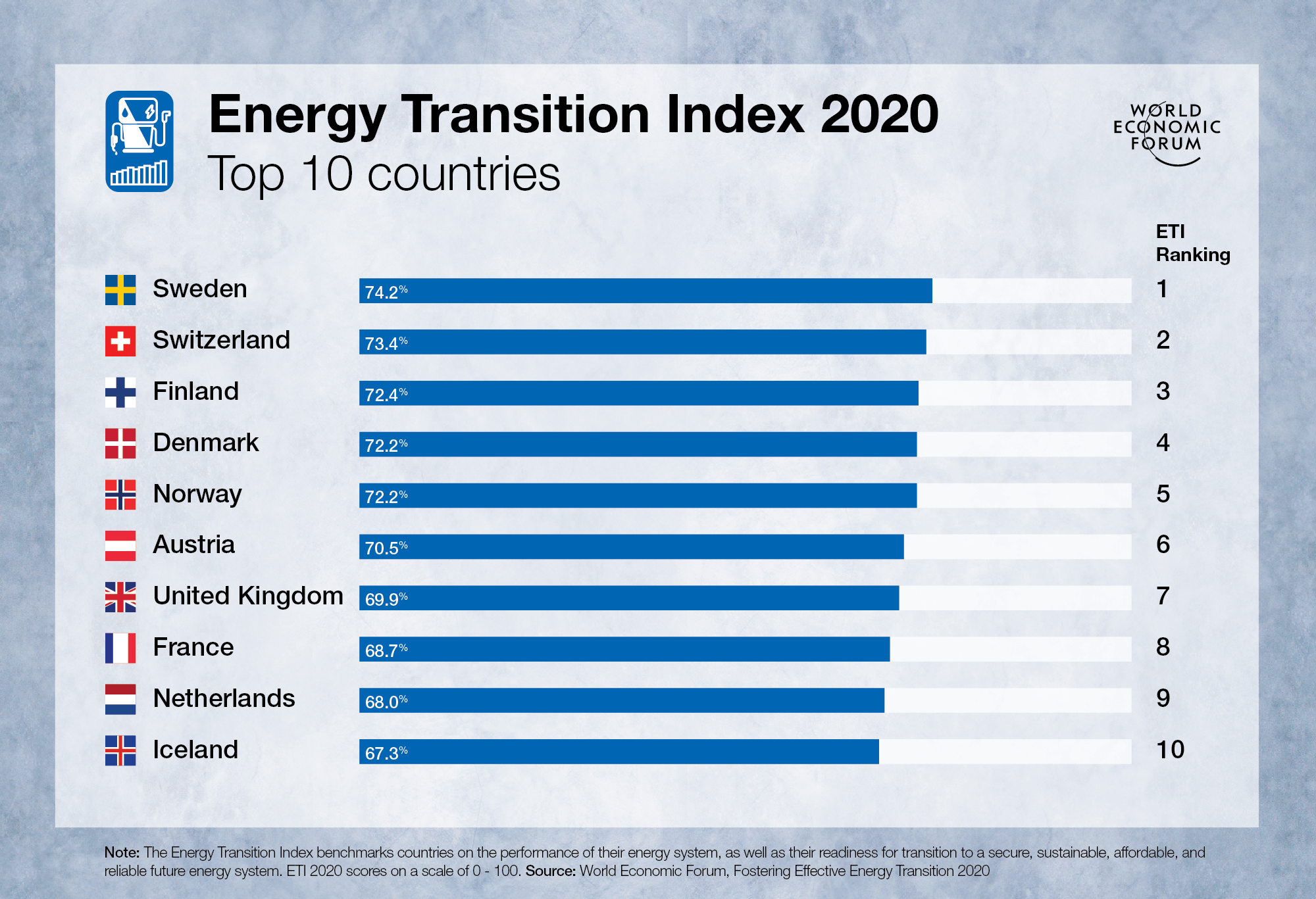 To future-proof the global energy system, the Forum's Shaping the Future of Energy and Materials Platform is working on initiatives including, Systemic Efficiency, Innovation and Clean Energy and the Global Battery Alliance to encourage and enable innovative energy investments, technologies and solutions.
Additionally, the Mission Possible Platform (MPP) is working to assemble public and private partners to further the industry transition to set heavy industry and mobility sectors on the pathway towards net-zero emissions. MPP is an initiative created by the World Economic Forum and the Energy Transitions Commission.
Is your organisation interested in working with the World Economic Forum? Find out more here.
Rush for renewables
The EU's REPowerEU plan aims to end European reliance on Russian fossil fuels "well before 2030" and rapidly reduce dependence by as soon as 2027. It aims to increase the share of renewables in final energy consumption overall to 45% by the end of the decade.
Unveiling the plan, European Commission President Ursula von der Leyen said: "We must become independent from Russian oil, coal and gas … We need to act now to mitigate the impact of rising energy prices, diversify our gas supply for next winter and accelerate the clean energy transition. The quicker we switch to renewables and hydrogen, combined with more energy efficiency, the quicker we will be truly independent and master our energy system."
https://cdn.jwplayer.com/players/CTrBkrEw-ncRE1zO6.html
The European Commission's 2022 State of the Energy Union report says the REPowerEU plan is "helping renewables to grow massively" in all sectors. It expects the renewable share of electricity generation to grow from 37% in 2021 to 69% in 2030.
The report says the EU generated a record 12% of its electricity from solar power from May to August 2022, and 13% from wind power. However, it says the share of hydropower fell from 14% to 11% compared to previous years, due to low river and reservoir levels caused by droughts.
Solar power growing rapidly
The European Commission says that it's looking like "2022 will be a record year for the European solar photovoltaics (PV) market with annual deployment growth in the largest EU Member State markets between 17-26%".
Industry group SolarPower Europe says its research shows solar power is growing fast across the continent. It says the EU installed 41.4 gigawatts (GW) of solar in 2022, up 47% from 2021 when 28.1GW was installed.
The group's progress report also says that 10 EU countries are adding more than 1GW per year, with Germany at the top of the league table, adding almost 8GW in 2022. It was followed by Spain (7.5GW), Poland (4.9GW) and the Netherlands (4GW).
Moreover, the organization says "European solar shows no signs of slowing down. Our average prediction for 2023 is 53.6GW more solar power in the EU – this 'most-likely' pathway takes us to at least 85GW of new solar per year by 2026. This means the EU solar market is set to more than double within four years and reach 484GW by 2026."
The UK breaks renewable records
Outside the EU, a record amount of renewable energy was generated in the UK in 2022, according to research by Imperial College London. It says that 40% of the UK's electricity came from solar, wind, biomass and hydropower last year.
The researchers say that, at one point in May, almost 80% of the UK national grid's power came from renewable sources. Overall power generation from renewables has more than quadrupled over the past decade, the researchers say.
"The lesson from 2022 is that we need to break our addiction to fossil fuels once and for all if we want lower cost and more secure energy supplies. If we had not invested in wind, solar and biomass over the last decade our energy bills would have been even higher, as would the risk of blackouts over winter," says Dr Iain Staffell of Imperial College London.
Can the EU meet its renewable targets?
The International Energy Agency (IEA) says its 'main case' forecasts the EU's share of renewables in electricity production to expand to 55% by 2027. Its Renewables 2022 report says this "is well below" the 69% share the EU estimates is needed to reach its REPowerEU plan's aim to rapidly reduce dependence on Russian fossil fuels by 2027.
EU solar and wind capacity expansion is currently insufficient to reach 2030 targets. Image: IEA
In order to enable a bigger increase in renewables capacity, the IEA says "governments across the EU will need to minimize policy uncertainty, simplify permitting procedures and accelerate transmission and distribution network upgrades. Ramping up renewables-based power generation is also essential to expand renewable energy uptake in the transport and heating sectors, as renewable electricity can power electric vehicles and heat pumps and be used to produce green hydrogen."
However, the IEA report says that it is possible that governments and industry could manage to address these challenges in the electricity, transport, heating and cooling sectors. If they do, "REPowerEU goals appear to be within reach, at least in terms of renewable energy".