This article is brought to you thanks to the collaboration of The European Sting with the World Economic Forum.
Author: Ewan Thomson, Senior Writer, Formative Content
---
Coal use must fall quickly, and by a lot, to significantly impact the climate crisis, says the International Energy Agency (IEA).
But moving away from coal is a tricky process.
The IEA has put together a report that outlines how coal can be phased out without endangering energy security.
Here are seven suggestions that will help take us to a world without coal.
Coal is both the single biggest source of CO2 emissions from energy and the single biggest source of electricity generation worldwide. That's a big problem.
In order to significantly impact the climate crisis and avert nature's collapse, coal use must fall quickly, and by a lot.
But it's not as easy as just flicking a switch. Energy security is a vital part of economies – people must have round-the-clock access to energy for a multitude of reasons, and not just commercial ones. Hospitals must run, traffic lights must work, schools must stay warm.
So how do we lose coal from the energy mix without creating short-term energy problems?
The International Energy Agency (IEA) has put together a report that outlines how coal can be phased out in favour of much cleaner energy alternatives, without endangering energy security.
Here are seven suggestions from the IEA that will help take us to a world without coal.
Emerging market and developing economies account for over 80% of global coal demand. Image: IEA
1. Start now, and cut deep
The IEA says that every single pathway available to us that avoids severe impacts from the climate crisis involves an early and significant reduction on coal-related emissions. Coal accounted for 36% of all electricity generation in 2021, and getting that percentage down is the first priority.
Initiatives like the World Economic Forum's First Movers Coalition – which utilizes the purchasing power of over 50 companies to decarbonize seven 'hard-to-abate' industrial sectors – can jump-start initiatives that will bring huge dividends in the coming years.
Coal demand is not going down organically – in fact it has been hovering at near all-time highs for the past decade. Coal dependency varies from country to country, but this chart below shows that coal emissions are concentrated in emerging market and developing economies (EMDE). The IEA says that Indonesia, Mongolia, China, Viet Nam, India and South Africa "stand out" as countries where the transition away from coal could be most challenging.
The world must wean itself off coal, as it is the single biggest source of CO2 emissions from energy. Image: IEA
The stakes are high – doing nothing means emissions just from coal will be enough to tip the world across the 1.5C limit.
2. Scale up clean electricity generation and infrastructure
A lot of the transition away from coal so far has been thanks to the uptake of solar and wind power. But this has generally occurred in countries where electricity demand was flat, and not in emerging markets where burgeoning population growth requires more and more power. A key challenge is to reduce coal demand in those EMDEs, and governments are in the position to set the right policy frameworks and investment climate to enable change.
3. Innovative financial strategies for faster transitions
Governments and institutions can be responsible for speeding up transitions, and also for slowing them down – removing roadblocks to progress will help. For instance, the IEA says there is over $1 trillion of capital yet to be recovered from today's coal plants, which creates an economic case for their continued operation. Innovative finance mechanisms can help to alter the weighted average cost of capital for coal plant owners, which could speed up the retirement of global coal plants.
4. International support to accelerate coal transitions in EMDE
Between $500 billion and $1 trillion of investment is needed between now and 2030 for EMDEs outside of China to be on a path to net-zero emissions.
Development banks can help by raising finance and encouraging investment in clean energy. Partnerships like the Just Energy Transition Partnership help donor countries to work with partners to accelerate the end of high-emission infrastructure and invest in more renewable alternatives.
Transitioning away from coal does not need to mean higher energy costs. Image: IEA
5. No new development of unabated coal‐fired power plants
Approvals for new coal-fired power plants need to stop, the IEA says. New projects are slowing, but recent events that contributed to an energy security crisis may have changed that.
Those coal-fired power plants that continue to run into the next decade could benefit from carbon capture, utilization and storage (CCUS) technologies, which can mitigate the emissions coming from coal use.
6. Concentrate on heavy industry solutions for short-term emissions cuts
Not all industries are ready to move away from coal – there are no readily available clean alternatives to using coal in the cement and steel industries, for example. So in the short term, switching fuels and increasing efficiency and energy are the main tools available. New technologies are needed in the longer term, though.
Discover
What's the World Economic Forum doing about the transition to clean energy?
Moving to clean energy is key to combating climate change, yet in the past five years, the energy transition has stagnated.
Energy consumption and production contribute to two-thirds of global emissions, and 81% of the global energy system is still based on fossil fuels, the same percentage as 30 years ago. Plus, improvements in the energy intensity of the global economy (the amount of energy used per unit of economic activity) are slowing. In 2018 energy intensity improved by 1.2%, the slowest rate since 2010.
Effective policies, private-sector action and public-private cooperation are needed to create a more inclusive, sustainable, affordable and secure global energy system.
Benchmarking progress is essential to a successful transition. The World Economic Forum's Energy Transition Index, which ranks 115 economies on how well they balance energy security and access with environmental sustainability and affordability, shows that the biggest challenge facing energy transition is the lack of readiness among the world's largest emitters, including US, China, India and Russia. The 10 countries that score the highest in terms of readiness account for only 2.6% of global annual emissions.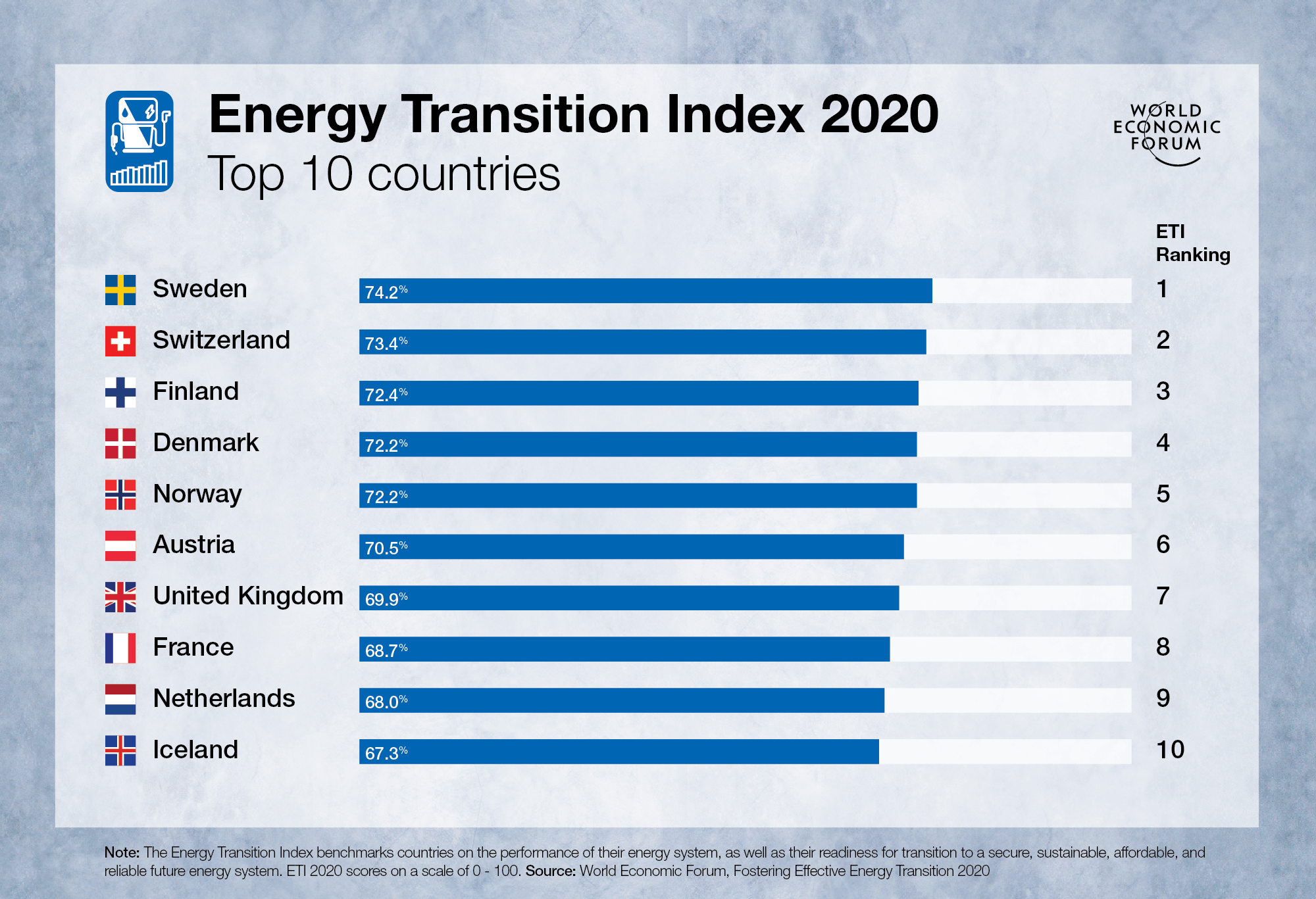 To future-proof the global energy system, the Forum's Shaping the Future of Energy and Materials Platform is working on initiatives including, Systemic Efficiency, Innovation and Clean Energy and the Global Battery Alliance to encourage and enable innovative energy investments, technologies and solutions.
Additionally, the Mission Possible Platform (MPP) is working to assemble public and private partners to further the industry transition to set heavy industry and mobility sectors on the pathway towards net-zero emissions. MPP is an initiative created by the World Economic Forum and the Energy Transitions Commission.
Is your organisation interested in working with the World Economic Forum? Find out more here.
7. Comprehensive policies for people‐centred transitions
Jobs in coal will fall when coal usage drops. There are around 8.4 million people working in coal value chains, so schemes to compensate and support existing coal workers into new roles will be vital.
Transitioning away from coal is equally about moving towards renewable energy, but doing so must occur under the right conditions that do not leave people without energy.
"International cooperation, public financial support and well-designed integrated approaches that incorporate the need for people-centred transitions" are the key ingredients to a successful strategy to move away from coal, the IEA concludes.
"This is a global effort, and there is no more important task in energy transitions than to get coal transitions right."