This article is brought to you thanks to the collaboration of The European Sting with the World Economic Forum.
Author: Rich Lesser, Global Chair, Boston Consulting Group (BCG)
---
Green business is an opportunity companies can't pass by.
Partnership is the new leadership – collaboration is key.
The cost of inaction far outweighs the cost of moving to more sustainable practices.
Companies and consumers are facing a number of significant challenges, including inflation, the energy crisis in Europe and food shortages. As CEOs navigate this volatile environment, they will need to simultaneously deal with business challenges today and take action to ensure long-term competitive advantage. One critical opportunity they can't let slip away: building green businesses for a net zero world.
Discover
What's the World Economic Forum doing about the transition to clean energy?
Moving to clean energy is key to combating climate change, yet in the past five years, the energy transition has stagnated.
Energy consumption and production contribute to two-thirds of global emissions, and 81% of the global energy system is still based on fossil fuels, the same percentage as 30 years ago. Plus, improvements in the energy intensity of the global economy (the amount of energy used per unit of economic activity) are slowing. In 2018 energy intensity improved by 1.2%, the slowest rate since 2010.
Effective policies, private-sector action and public-private cooperation are needed to create a more inclusive, sustainable, affordable and secure global energy system.
Benchmarking progress is essential to a successful transition. The World Economic Forum's Energy Transition Index, which ranks 115 economies on how well they balance energy security and access with environmental sustainability and affordability, shows that the biggest challenge facing energy transition is the lack of readiness among the world's largest emitters, including US, China, India and Russia. The 10 countries that score the highest in terms of readiness account for only 2.6% of global annual emissions.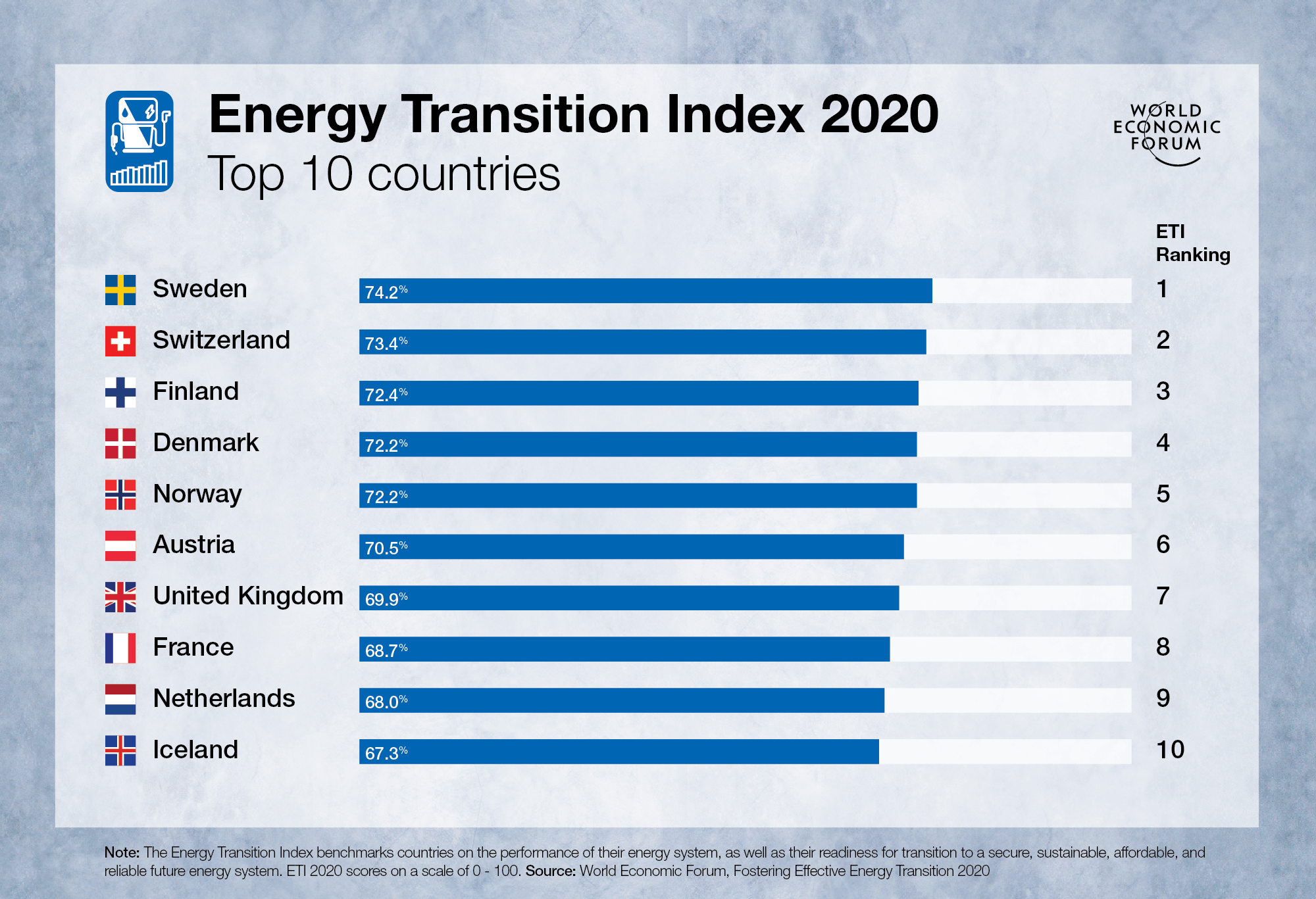 To future-proof the global energy system, the Forum's Shaping the Future of Energy and Materials Platform is working on initiatives including, Systemic Efficiency, Innovation and Clean Energy and the Global Battery Alliance to encourage and enable innovative energy investments, technologies and solutions.
Additionally, the Mission Possible Platform (MPP) is working to assemble public and private partners to further the industry transition to set heavy industry and mobility sectors on the pathway towards net-zero emissions. MPP is an initiative created by the World Economic Forum and the Energy Transitions Commission.
Is your organisation interested in working with the World Economic Forum? Find out more here.
Challenges and Opportunities
Yes, sustainability comes at a price today. Cost premiums for many low-carbon inputs, particularly in the industrial sector, are 50% or more. But as these new technologies scale and government intervention continues, declining cost premiums will open up opportunities to pioneer green markets. Meanwhile, in sectors like renewables and electric vehicles, early movers have already proven they can thrive well before cost parity is achieved. These leaders have successfully converted the often-higher costs of green materials, products, and processes into value for the company—whether that is in the form of expanded share in a fast-growing market or via a "green price premium." Our new report with the WEF Alliance of CEO Climate Leaders explores how other companies can take a similar path by identifying, creating and scaling green businesses.
Companies will need to navigate tricky market currents to win. Take consumer willingness to pay. A June 2022 BCG sustainability consumer survey highlighted that while <10% of consumers purchase on sustainability just to "save the planet", the number of consumers in any given category that would make sustainable choices increases roughly 2-4x (to 20-43% of consumers) when sustainability is linked to other benefits such as health, safety and quality. The number that would make sustainable choices increases yet another 2-4x (to roughly 80%) when barriers such as convenience, information and cost are addressed.
Companies that figure how to deliver additional benefits and reduce points of friction can gain access to a major untapped consumer market.
Another critical challenge stems from the mismatch between green efforts of downstream, consumer-facing companies and those of upstream providers of sustainable materials and other inputs. Consider the value chain for the household and personal care sector. Downstream players with SBTi-aligned Scope 3 targets already hold roughly 45% of industry market share. But in industries such as plastic and aluminum, which provide materials for the household and personal care value chains, companies representing just 6% and 11%, respectively, of market share have made commitments for their own emissions. We see a similar pattern in other value chain including automotive, food and beverage, and electronics. The result of the divergence in commitment levels is that downstream players may find that the green materials and services they need are in short supply.
Taking action
Given the opportunity in building green businesses—and the likelihood that some upstream inputs may be scarce in the near-term—companies across the entire value chain need to revamp their go-to-market approach through five actions:
This new approach demands fresh thinking when it comes to the product portfolio, the value proposition the company offers to customers, the way the company engages with those customers, and the pricing strategy. Perhaps most critically, companies will need to take a more expansive view of partnership and collaboration. Martin Lundstedt, the CEO of Volvo, described it well in saying, 'partnership is the new leadership.'
So, what does this look like in practice? For one thing, downstream companies can cooperate with upstream players to scale up supply, often sharing the costs across the value chain. Companies should also seek to work across the industry to aggregate demand. Initiatives like the First Movers Coalition bring together global businesses on both the supply and demand side across industries such as cement, trucking and aviation to accelerate the supply and demand of green products in these sectors. Finally, companies can collaborate with regulators and peers to remove barriers to green market development. For example, the more uniform the definition of a green product is, the easier it is for companies to establish transparency about the emission footprint of the good that they are buying. This, in turn, enables a vibrant green market to emerge more quickly.
Discover
How is the World Economic Forum fighting the climate crisis?
The World Economic Forum's Centre for Nature and Climate accelerates action on climate change and environmental sustainability, food systems, the circular economy and value chains, and the future of international development.
Contact us for more information on how to get involved.
For upstream players in particular this level of collaboration will require a mindset shift. Long accustomed to playing in traditional commodity markets, they will need to embrace a new type of customer engagement to successfully compete in green markets. Early manufacturers of non-fossil steel, for example, have co-shaped longer-term arrangements with their first customers—a 'win-win' that de-risked their investments and created early supply security for their customers.
https://cdn.jwplayer.com/players/vUNqBdHf-ncRE1zO6.html
Companies that foster and lead such collaboration can serve as much-needed catalysts for climate action. Current projections hold that global emissions will be up 11% by 2030—not the 43% decrease we need to limit warming to 1.5°C. Humanity is running out of time to avoid some of the most-dire impacts from climate change. And notably, at COP27, like COP26, it was clear that the role of companies in driving progress toward net zero is increasingly vital.
The benefits of action are clear, and the costs of inaction pose a threat to all of humanity. Decisive corporate leadership is not only a once-in-a-generation business opportunity, but also an imperative for transforming our global economy for sustainability.