This article is brought to you thanks to the collaboration of The European Sting with the World Economic Forum.
Author: Rosamond Hutt, Senior Writer, Formative Content
---
Imagine a world free of malaria. It's not such a far-fetched idea, as this deadly disease could be completely eradicated within a generation, according to new research.
The answer lies in using existing vaccination, information and prevention methods more effectively, together with cutting-edge approaches to tackling the disease. A major new report published in The Lancet points to several emerging technologies being developed to fight the spread of malaria.
Eliminating this global threat is a mammoth – and expensive – task. Malaria control and elimination efforts cost an estimated $2.9 billion in 2015, which would need to rise to $8.7 billion by 2030. Between 2015 and 2030, the report said the estimated total cost was $102 billion.
Slowing the spread

The disease is transmitted by mosquito bite and can be fatal. Symptoms include vomiting, fever, diarrhoea and muscle pains. Once inside the bloodstream, the malaria parasite infects a patient's liver and red blood cells, spreading to other parts of the body, including the brain and lungs.
The World Health Organization records more than 200 million cases each year, with an annual death toll reaching 435,000 people, many of them young children.
Vaccination and prevention programmes have been fighting the spread of malaria for many years with some success. The Lancet report shows worldwide malaria infections have fallen by more than a third since 2000, with a 60% reduction in the disease's death rate.
What is Gavi?
Gavi is an Alliance launched at the World Economic Forum Annual Meeting in 2000. It has contributed to the immunization of nearly 700 million children, saving an estimated 10 million lives worldwide in less than 20 years.
The aim of Gavi is to make vaccines more accessible and affordable for all children, wherever they live. It brings together the best efforts of UN agencies, governments, the vaccines industry and civil society to improve childhood immunization in developing countries and accelerate access to new vaccines.
Better drugs, higher immunization rates and widespread use of bed nets treated with insecticides to prevent bites have helped reduce infection rates in many parts of the world. But malaria remains a major threat to life in some regions.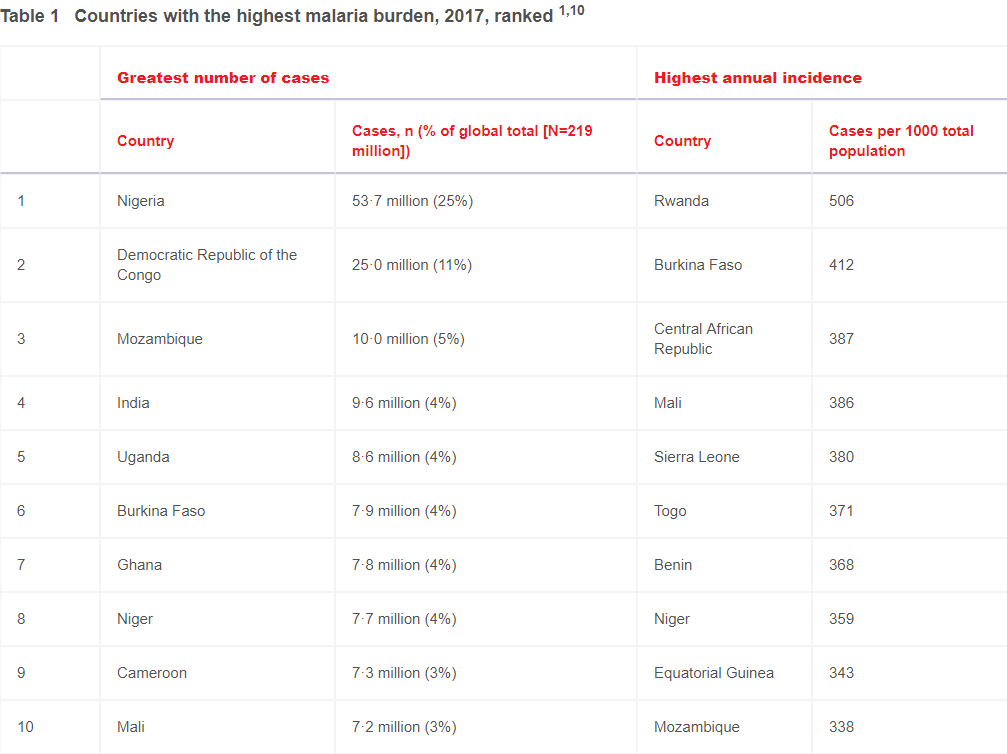 African countries are most at risk, with six nations accounting for more than half of total global infections. Nigeria alone experiences a quarter of all malaria cases.
Political instability, remote locations and failing or non-existent infrastructure can prove challenging for coordinating mass immunization programmes, which are expensive to implement.
And the threat from malaria and other diseases is increasing as temperatures warm. Climate change produces more rainfall and higher humidity in areas prone to the disease, such as India and parts of Africa – perfect conditions for mosquitoes to thrive.
Designing new genes

The report's target of eliminating the disease everywhere outside of Africa by 2030 and worldwide by mid-century, requires a more coordinated approach. Alongside using current methods of combating the disease more efficiently, scientists are also approaching the problem from a different direction.
One method being developed is gene drive technology that manipulates the genetic makeup of mosquitoes. Specific genes could be introduced, which make mosquitoes infertile, rapidly reducing their numbers. Alternatively, the insects could be made genetically resistant to the malaria parasite, eliminating mosquitoes as a carrier.
Scientists have also genetically modified a fungus that is known to infect mosquitoes. A strain of the Metarhizium pingshaense fungus has been altered so it generates spider toxin found in the venom of the Australian Blue Mountain funnel-web spider, which is lethal to mosquitoes.
Trials conducted in Burkina Faso, West Africa, saw the fungus wipe out 99% of a mosquito population within 45 days, according to researchers from the University of Maryland and the nation's IRSS research institute. Brian Lovett, lead author of the research paper, said the study had "broken through a barrier".
In today's high-tech world, internet access and global communications allow information to be shared instantly, aiding the fight against malaria. Our ability to identify, track and monitor disease outbreaks is at an all-time high.
Combining more efficient use of existing ways to combat the disease, together with game-changing gene technologies, could turn the once-distant dream of eradicating malaria into reality.